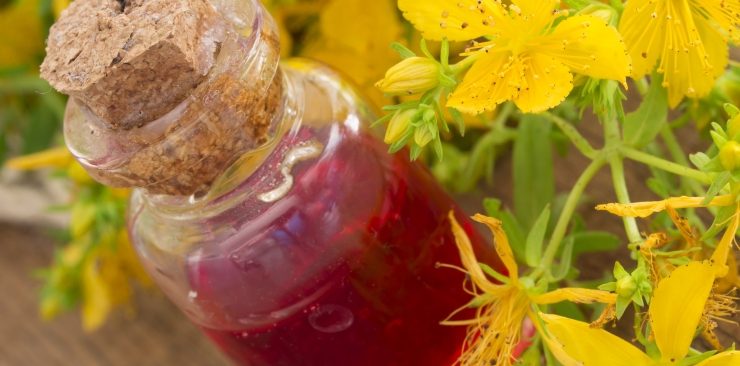 St. John's wort oil: how to prepare it and what it is for
Which of you has never heard of St. John's wort, the Anglo-Saxon name of Hypericum (Hypericum Perforatum)?
Hypericum is a herbaceous plant that grows wild in the fields and along the country roads of Europe and North America. Its flowers, with five yellow petals and numerous long stamens, appear from June to August and can be collected for herbalist use in autumn.
A curiosity about hypericum: the Anglo-Saxon name of the plant (St. John's wort) is attributed to the fact that the plant flowers at the feast of St. John (June 24th). In herbal medicine the leaves and flowering tops are used.
As already discussed in a last post, oleolites (or "macerated oils") are extracts obtainable by maceration (30-90 days) in an oily vehicle and they are filtered by squeezing the vegetable well. The oleolite of St. John's wort and a few others is effective only if obtained from a fresh plant.
St. John's wort oil is prepared by soaking fresh Hypericum flowers in virgin olive oil (25-30 grams of flowers in 100 ml of olive oil) for 6 weeks in tightly closed bottles, at room temperature, then expose to sun until the preparation takes on a ruby ​​red color (caused by hypericin but also by other naphthodiantronic derivatives). Filter and store in dark glass bottles (1,2). Although virgin olive oil is usually recommended and used, sunflower oil also seems to ensure good extraction of the active ingredients, adding less greasiness and better flowability of the finished product.
The St. John's wort macerated oil that you can find in our Erboristeria Como, by Flora bio srl, is a 100% pure vegetable oil and certified organic cosmos.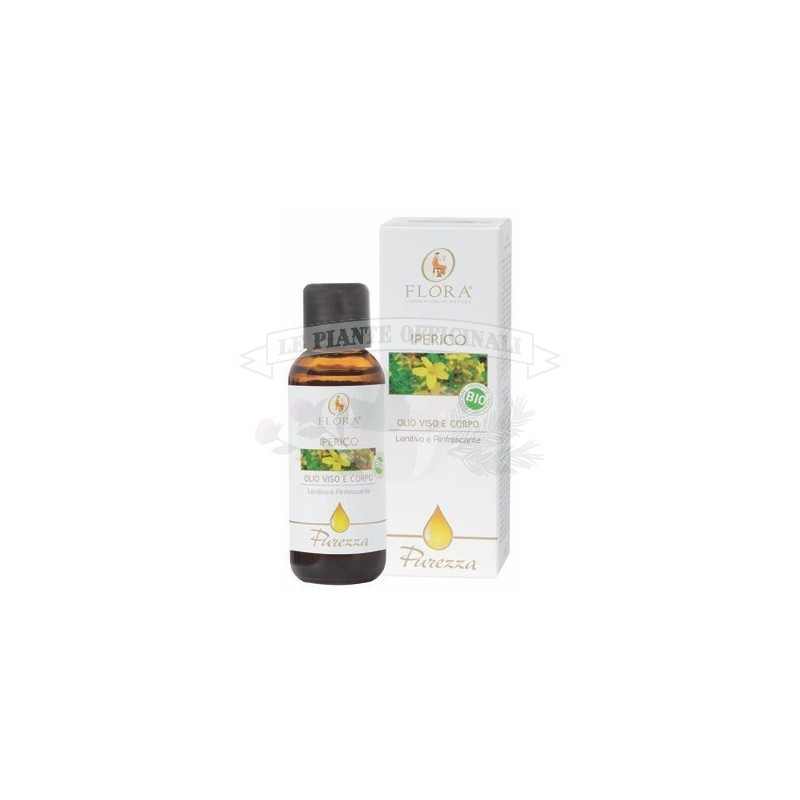 St. John's wort oil is an excellent vegetable oil for cosmetic use that is established in the first levels of the stratum corneum and has the following properties:
- St. John's wort oil is soothing and emollient, regenerating, restorative, for all skin types, especially mixed, sensitive, irritated ones. It is particularly recognized for its astringent action on red and delicate skin, invigorating for tired skin (3) and for the eudermic action on senescent skins (G. Proserpio);
- St. John's wort oil is a topical vulnerary: to be used in case of skin inflammation, lesions, wounds, burns, burns, sun rashes, bedsores, eczema, dermatoses, even specific ulcerations, such as leg ulcers, sprains, insect bites. Valid in this regard also for muscle massages and frictions in case of joint pain, arthritis and rheumatism, back pain, pain due to inflamed nerves, sciatica. According to Leclerc (1989), St. John's wort oil "decreases the painful symptoms following a local, light but constant anesthetic action; moderate inflammatory reactions; protects damaged tissues without compromising vitality and without causing retention or suppuration of ejected liquids; favors the reconstitution of epidermal tissue ". To all this is added an antiseptic action.
- St. John's wort oil protects the skin against sunlight: the protective action against sunlight would be supported on the one hand by the action of the essential oil filter, on the other by the hypericine (responsible for the refreshing and soothing properties of the 'hypericum oil' which accelerates the recall of the melanin pigment, and therefore the tan, while the hyperine acts as a vasoprotector, reducing the risks of sunburn (2);
- St. John's wort oil has an antimicrobial action: it was also used by surgeons to clean wounds, and it became official in the first "London Pharmacopeia" (1);
- St. John's wort oil is also useful for breast fissures: "rub the nipples with a cotton pad soaked in a little hypericum oil. Obviously this part must be kept as dry as possible. Before feeding, avoid washing; the slight cleansing can be done with a little sweet almond oil "(4).
Visit our aromatherapy department for any clarification or for more information.
ALL RIGHTS RESERVED, THIS TEXT IS NOT REPRODUCIBLE WITHOUT EXPRESS AUTHORIZATION OF ERBORISTERIA COMO.
Bibliography:
(1) Capasso, "Fitoterapia"
(2) E. Campanini, "Dizionario di fitoterapia e piante medicinali"
(3) Boni U., Patri G.F., "Scoprire, riconoscere, usare le erbe", Fabbri, Milano, 1977
(4) P. Chiereghin "Fitoterapia per i farmacista"